ARCHIVED WEBSITE
Title: Los Favoritos
Original URL: www.losfavoritos.net
Screen resolution: 800x600
Language: Spanish
Active: 2000-2004
Location: Montevideo, Uruguay
"Los Favoritos" was a tango music program hosted by prolific radio and TV announcer Roberto Mendez. It was launched in July 1995 with the inauguration of Gardel 91.1 FM (CXD-216), a radio station dedicated exclusively to the dissemination of traditional local music genres.
In December 2000, Gardel FM began streaming live on the Internet as part of a pilot project introduced by TodoRadio.com, a webcasting company based in Montevideo, with media servers located in Toronto, Canada.
Impacted by a national economic crisis which began in 2002, Gardel FM and TodoRadio.com ceased to operate in 2004.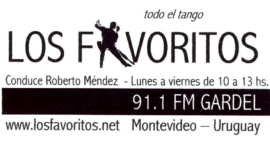 Roberto Mendez in Gardel FM studios
---
*Please note that most of the outside links on this website may be outdated or no longer available.
*The audio streams on this website are not live.